Power Packed Protein Pasta Recipe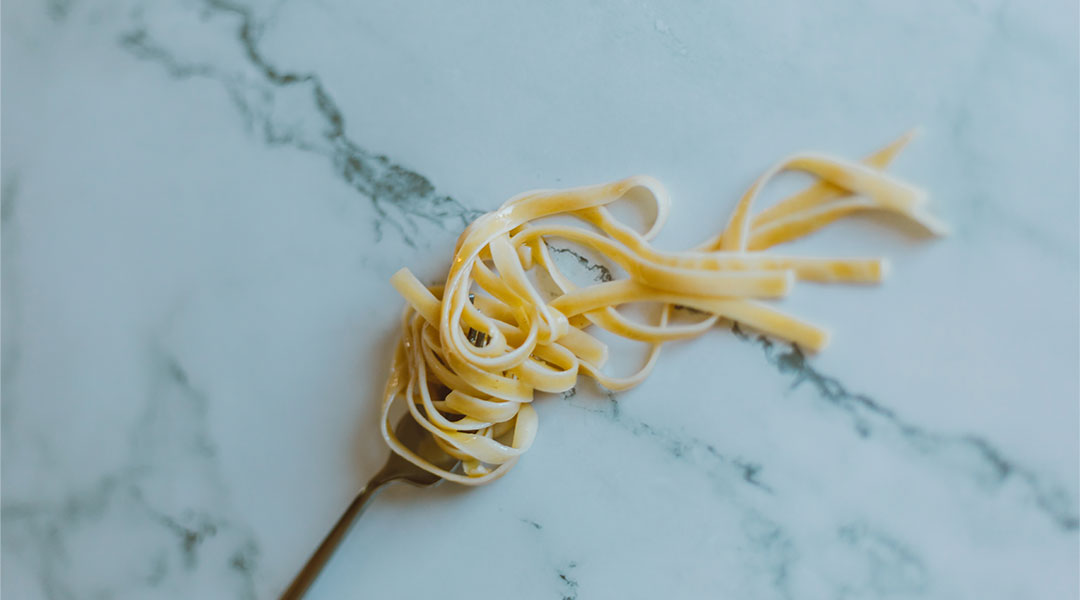 Making your own pasta is a fun and engaging way to explore new skills, recipes, and techniques in the kitchen. Just like with the dough of cakes and other baked goods, adding protein powder to pasta dough is a relatively simple step in the not-so-simple process of making your own noodles.

Whether you're an experienced pasta chef or just want to give it a shot, this straightforward protein pasta recipe can have you handcrafting your own power-packed pasta dishes in no time.
Protein Pasta
This recipe was adapted from the Anabolic Gourmet's Body Builders' High Protein Homemade Fettuccine recipe.
The great part about making fettuccine is that you don't need a bunch of fancy pasta-making tools to create the long flat ribbon-like noodles. However, this recipe is significantly easier to make when you have a good tabletop mixer fitted with a dough hook.
You can use a traditional pasta-making flour like semolina or 00 flour, but, to get the most protein with good results, we recommend using chickpea flour, which is sometimes called besan, garbanzo flour, or gram flour, in combination with unbleached all-purpose flour or nut-based flour.
Once you make your pasta, you can dress it with whatever type of sauce, meat, cheese, and herbs that you like. Leftover uncooked noodles can be stored in the refrigerator for about a week or frozen for longer storage. When you cook the frozen noodles, don't thaw them, simply place the frozen bundle directly into the heated water and cook as normal. 
Ingredients:
1 cup chickpea flour

4 packets of Allo Natural

1 cup all-purpose flour

1 teaspoon salt

5 large eggs

4 tablespoons olive oil
Instruction: 
Mix dry ingredients until well blended in your mixer bowl.  

Press a well in the flour to hold the eggs and 2 Tablespoons of olive oil.

Once all the ingredients are in the bowl, place it in the mixer

Secure the dough hook and lower the motor head down and the mixing attachment into the bowl. Adjust the lift of the bowl as needed. 

Turn the mixer on medium low speed until the ingredients are well mixed. Continue kneading the dough until soft, silky, and slightly sticky. Add water or flour to balance out dough that is too dry or too wet. 

Coat the inside of a small mixing bowl with the remaining 2 Tablespoons of olive oil.

Remove the dough from the mixer and place it into the bowl, turning it a few times to evenly coat with olive oil.  

Leave the dough in the bowl and cover it with plastic wrap. 

Allow the dough to rest for at least 30 minutes at room temperature. 

Apply a mixture of 50% chickpea flour and 50% unbleached flour to a large cutting board or sanitized countertop.

Place the dough on the floured surface and use a floured rolling pin to stretch and flatten the dough to a rough rectangle adding more flour as your work. 

Allow the dough to dry for approximately 30 minutes or until the dough is dry enough not to stick to itself when folded but still pliable.

Add flour to the top of the dough before making a 2-3 inch fold on one side. 

Fold the opposite side in the same way.

Add more flour to the dough that was on the bottom but is now facing up before folding them over again until the dough is stacked into a single strip between 3 and 4 inches wide. 

Slice the strip into fettuccine-sized ribbons 

Unfold them a few at a time and set them aside on a floured surface to dry more. 

Cook the finished pasta in boiling salted water for 5-8 minutes, strain, and top with your choice of sauce, meat, cheese, and herbs.
Boost Your Protein at Any Meal with Allo
Adding protein to your favorite recipes has never been easier with Allo protein powder for hot coffee. The specially formulated powder is temperature safe so you won't lose any of the effectiveness of the protein by cooking with it.
Allo natural is an unflavored option that is perfect for cooking, especially in savory recipes where vanilla might not work out the best. You can add protein powder to any kind of dough for baked goods, pasta, even pizza, or any liquid like soups, sauces, or gravy.
Remember, Allo works great in cold liquids and frozen treats as well. So grab a box of Allo natural today and start putting more protein into your everyday routine.
Calculate My Recommended Protein Intake