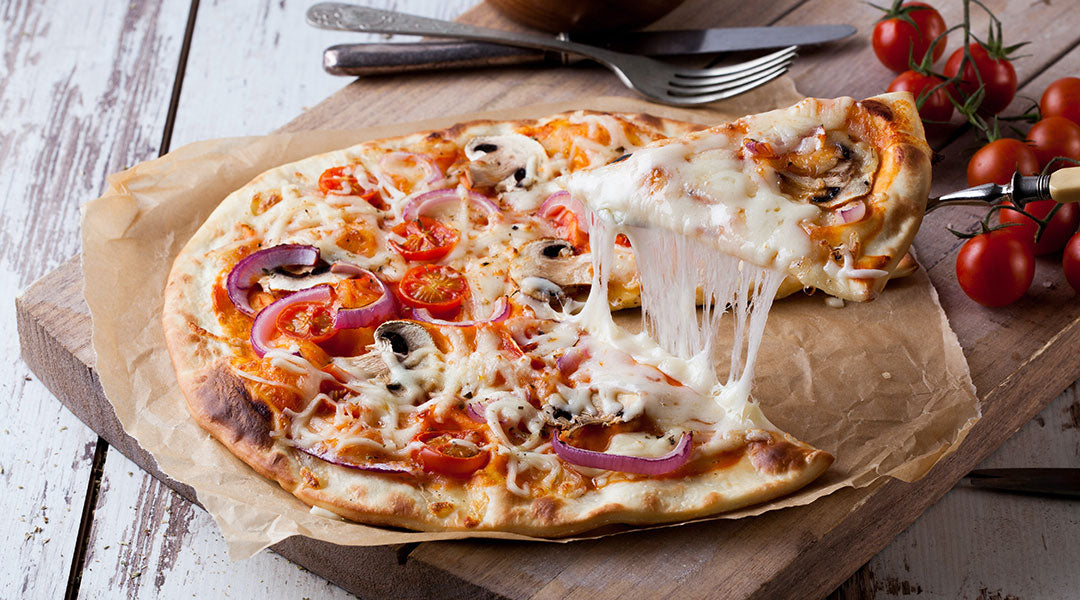 There are a lot of ways to add protein powder to your food, but the easiest ways often feature baked goods or breakfast foods where the powder can easily dissolve or blend with other dry ingredients like flour. Well here's one to get a boost in your protein for lunch or dinner: protein pizza.
Taking advantage of the flour base, adding protein powder to pizza dough is quite simple, just blend your protein powder with your choice of self-rising flour and make and roll the dough like normal. With this recipe, each serving, which is 2 slices when cut into 8 pieces, gives you 15 grams of protein not including toppings.
Protein Pizza
Our recipe is a spin on The Big Man's Protein Pizza. The bulk of the work is in making the dough, which is where you will add your protein powder.
For this recipe, we strongly recommend an unflavored protein powder as many of the common protein powder flavors are sweet and could clash with the Italian spices and robust sauce. For best results, use the natural unflavored version of Allo protein powder for hot coffee as it's formulated to be heat safe and won't break down during baking.
You'll want to make sure that the flour you use is self-rising, otherwise, you will need to add yeast to your flour. To make a gluten-free dough, use almond flour or another grain-free flour.
For a keto-friendly version, swap out the Greek yogurt for 3 large egg whites and beat them to stiff peaks before folding them into the dry ingredient mix to make the dough. To keep the recipe keto, you should also make sure you are using a no-carb protein powder like Allo.
A premixed Italian seasoning works just fine or you can feel free to use your own blend of spices or skip the seasoning in the dough altogether. You can also sprinkle some extra seasoning on the oiled crust before baking along with a quick sprinkle of parmesan cheese just after baking.
As for toppings, you can use premade pizza sauce from a can or make your own from scratch. Either way, you want to make sure you have enough to cover the whole area of the pizza dough.
You also want to be sure you have enough cheese to cover all the sauce and hold any toppings in place. There are plenty of suitable cheese types to use for this recipe, but we recommend a fresh and well-shredded mozzarella.
Finish things off with additional proteins like pepperoni, sausage, or ham and your favorite veggies or, yes even the infamous pineapple, to make your pie exactly the way you like it. 
Dough Ingredients:
¾ cup of self-rising flour

1 packet of Allo Natural

1 cup of Greek yogurt

1 teaspoon olive oil

1 teaspoon Italian seasoning

¼ teaspoon salt
Pizza Toppings:
1/2 cup pizza sauce

2 cups of shredded cheese

Your choice of toppings
Instructions:
Combine your dry ingredients in a bowl and mix together.

Add the Greek yogurt and mix until well blended adding more yogurt to thin or more flour to thicken the dough to achieve the desired consistency.

Shape the dough with your hands until you have a smooth ball.

Sprinkle some additional flour onto a large cutting board or sanitized countertop to work the dough on. Roll the dough into a large, uniform circle. 

Line a baking sheet or pizza pan with parchment paper and transfer the dough onto the pan. 

Brush olive oil along the entire edge of the pizza crust.

Add your sauce, cheese, and toppings. 

Bake at 400°F for 15-20 minutes or until the cheese melts and the crust turns golden brown.

Take the pizza out of the oven, slice it into 8 pieces, and enjoy!
Calculate My Recommended Protein Intake