Keto Friendly Ranch Salad Dressing with Extra Protein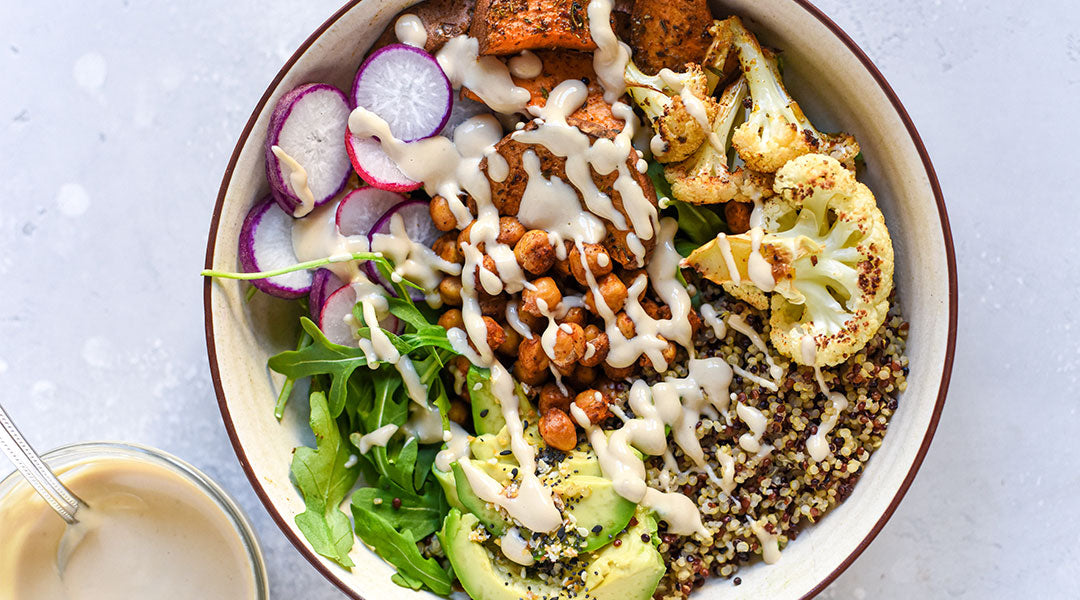 Sticking to the keto diet requires a lot of sacrifices when it comes to food. Some are obvious, like donuts and pasta, but it may surprise you what other kinds of foods are too high in carbs for keto.

One of these surprising items is salad dressings. Luckily, there are a number of ways to flavor your side of mixed greens with keto-friendly recipes like this one. A protein-heavy dressing like our keto-friendly protein ranch salad dressing can help you round out your keto meal with another protein boost in your salad.

With how easy it is to prepare, taking less than 5 minutes to put together, you'll want to make this recipe every week. Make a double batch and add it to your meal prep or just keep some on hand for salads, snacks, and anything that tastes better with a little ranch, which is just about everything. 
Ranch Salad Dressing with Protein
Our recipe is an adaptation of The Protein Chef's High Protein Ranch Dressing. Most of the deviations from the original are for the sake of making this recipe more keto friendly.
If you want to make things really easy on yourself, there's nothing wrong with just sprinkling in a scoop of Allo Natural protein powder into your favorite store-bought dressings, though this method works best with thick and creamy dressings over a vinaigrette or oil-based dressing. 
Try adding Allo to your favorite keto-friendly salad dressings that you already know and love for an added boost of sugar-free, gluten-free, and clump-free protein. 
You can play around with the herbs and spices until you find your own preferred taste. The same goes for the water, add as much or as little as you like to make the consistency exactly how you want it. 
This dressing is best used fresh, but it will keep in the refrigerator for approximately 3-5 days. 
Ingredients:
¾ cup or 6 oz plain low-carb Greek yogurt

½ cup fat-free sour cream

1 scoop of Allo Natural protein powder

1 teaspoon parsley

¾ teaspoon salt

½ teaspoon onion powder

¼ teaspoon dill

¼ teaspoon garlic powder

¼ teaspoon black pepper

Water 
Instructions:
In a small to medium mixing bowl, add all of your ingredients together except for the water.

Combine until well mixed and the protein powder dissolves into the dressing.

Add water to dissolve the protein powder and thin the dressing to your desired consistency. 

Cover and chill for 30 minutes to an hour before serving.
Make Your Recipes Work for You with Allo
Add some extra protein to your favorite recipes with Allo protein powder for hot coffee. The heat-safe formulation that makes Allo dissolve seamlessly in your favorite hot beverage also makes it the perfect protein to cook with.

Whether it's grandma's famous oatmeal cookies, mom's homemade meatloaf, or even a summer soup, add Allo Natural to any recipe for a boost of protein without altering the flavor you know and love. Also try Allo in vanilla, caramel, and hazelnut for baked goods and, of course, in your cup of coffee or hot tea.

Grab a tub of Allo in your favorite flavor to have on hand at home and get a box of pre-portioned packets to keep at the office, in your briefcase, or in your gym bag to boost the protein of every 8 oz cup of hot coffee, tea, or your favorite hot beverage wherever you go.
Calculate My Recommended Protein Intake