Scrumptious No-Bake Vanilla Protein Cake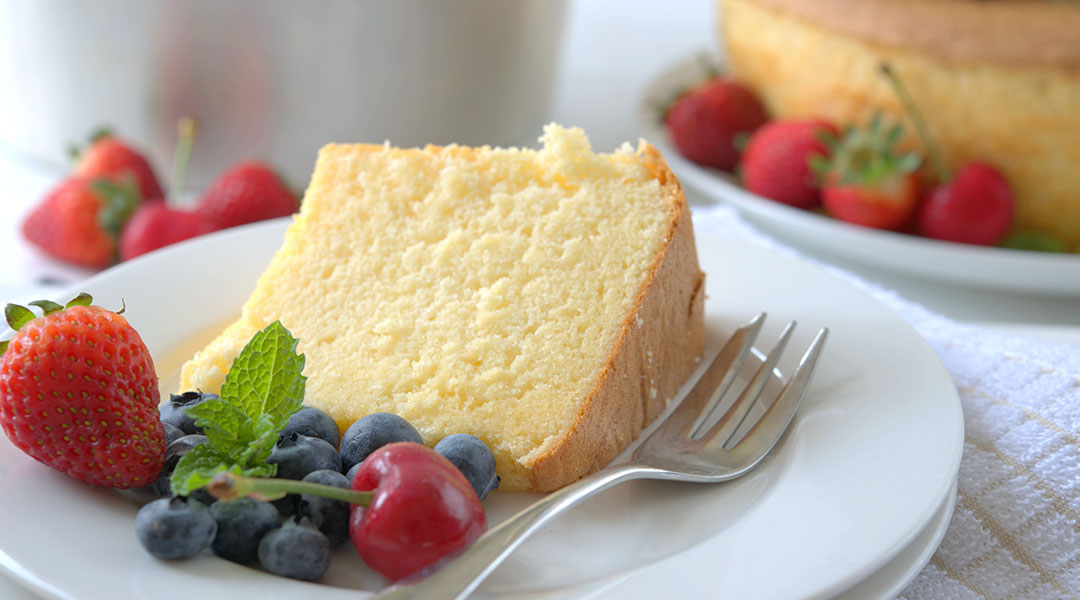 When you think of vanilla cake recipes you probably see a countertop full of ingredients like baking powder, all-purpose flour, baking soda, vanilla extract, milk, eggs, sugar, and all the rest. But for this recipe, you only need three ingredients!
This is a great recipe to whip up a deliciously decadent dessert in just a few minutes. All you need is a microwave-safe bowl, a silicone spatula, and a cake pan. No baking, no boiling, just a few minutes of microwave time to melt your chocolate chunks. It's too easy not to try!
No-Bake Vanilla Protein Cake
This scrumptious truly no-bake vanilla cake recipe is actually the vanilla version of a chocolate version from Kirbie's Cravings called 2 Ingredient No Bake Chocolate Cake. For our version, the number of ingredients is bumped up to three so that you can get a boost of protein from your no-bake treat, but we're pretty sure that still makes this one of the easiest cakes in the world to make and with no baking!
In the original recipe, they call for 2 cups of chocolate chips, but in order to make this into a vanilla cake you'll need to use either white chocolate chips or vanilla almond bark. We recommend using almond bark since it's meant to be melted, meaning it will be easier to work with than white chocolate chips which sometimes don't melt well at all, and it's cheaper since it is made with vegetable oil instead of precious cocoa butter. Almond butter is also a dairy-free option so you can use it as a vegan-friendly option as well. 
Since there is truly no baking involved in this recipe, the setting process will take place in the refrigerator. Because this is a cold set cake, it does need to be stored in the fridge, but it won't completely melt like ice cream cake if you leave it on the counter for an hour or two, just be sure to put it back before you go to bed. 
Once the cake is set you can add any kind of toppings you like. You probably won't have great luck with harder frostings like the kind you buy in a jar, but a nice ganache or even squeezable frosting makes a nice addition to the cake. You can also add fruit, nuts, or even flowers, real ones or sugar-based ones, to make the cake your own.  
Ingredients:
2 cups vanilla almond bark 

1 scoop Allo vanilla protein powder

1 1/2 cups banana puree
Instructions:
Prep your cake pan by greasing the inside and then lining the dish with parchment paper.

Break your almond bark into chunks and place the 2 cups in a large microwave-safe bowl.

Place the bowl in the microwave and cook for 1 minute.

Remove the bowl and stir the melting almond bark.

Place the bowl back in the microwave and cook for another minute then stir. Repeat until the almond bark is completely melted.

Add half a scoop of your protein powder and mix into the melted almond bark until it is dissolved. 

Add your banana puree to the mixing bowl as well as the second half of your scoop of protein and mix until all of the ingredients are well combined.

Use a silicone spatula to scoop the cake batter into the pan and smooth the surface. 

Tap the pan on the counter a few times to get any air bubbles to release to the surface. 

Place the pan in the refrigerator for an hour to allow the cake to set.

Once it is set you can add frosting, fruit, or whatever fun toppings you like.
Add Protein to Your Favorite Treats with Allo
It's never been easier to add protein to your favorite cakes, cookies, and desserts with Allo protein powder for hot coffee. The temperature-safe formula means your protein will never break down from heat, even in the oven, so you can use it in all of your baked goods for a healthy boost of high-quality whey protein in every bite. 
Our vanilla, hazelnut, and caramel flavors work great in sweet treats and even in breakfast foods like pancakes and oatmeal. For all the protein without changing the taste of your beloved recipes, try Allo Natural. It's also great for black coffee lovers, so be sure to grab a tub to keep on hand for all the ways you can Allo your coffee and your cookbook.
Calculate My Recommended Protein Intake