Protein Rice Krispie Treat Recipe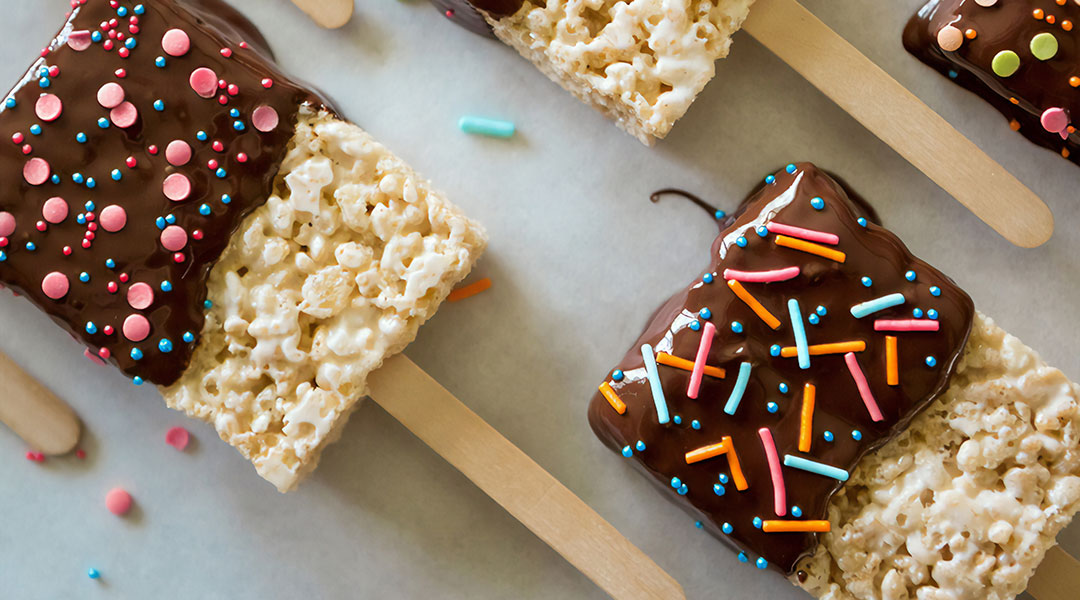 Protein rice crispy treats are a great, homemade alternative to protein bars that are quick and easy to make. These protein-packed treats are the perfect addition to a packed lunch for you or your kids as they are sure to be a hit with the whole family.
Our Protein Rice Krispie Treat recipe is so easy you can whip up a batch in just 10 minutes and let it cool on the way to any event. Keep this one in your back pocket for birthdays, school events, work meetings, or family gatherings to wow the crowd and slip them something healthy while you do it.
Protein Rice Krispie Treats
Our recipe is a spin on Joy to the Food's Homemade Protein Rice Krispies Treats. One of the best things about this recipe is how much variety you have to play with.
While the traditional cereal for rice crispy treats is Rice Krispies, you can use virtually any type of cereal you want, like Cocoa Pebbles, Fruity Pebbles, Frosted Flakes, Cheerios, Lucky Charms, or Fruit Loops. You can even use this recipe to make protein powder popcorn balls for a more balanced Halloween treat.
You can make the recipe vegan by subbing in dairy-free, plant-based butter and swapping the marshmallows out for almond butter. Add in some extra protein with a scoop of peanut butter.
Try different flavors of protein powder based on the cereal you use or mix it up to discover new flavor combinations. You can also experiment with different toppings like a drizzle of chocolate, a smattering of sprinkles, or some strategically placed mini marshmallows, m&m's, or Nerds.
While there's no baking involved, it's still important to make sure that the pan you use to press the treats is well greased with cooking spray or butter as the mixture will be incredibly sticky even at room temperature.
Another way to ensure your treats pop out in nice squares is to line the pan with wax paper or parchment paper - since it isn't going into the oven, wax paper will work fine. We also recommend using a silicone spatula to combat the stickiness of the mixture so you're not fighting against yourself when you are stirring or pressing the mixture. 
Ingredients:
3 tablespoons butter

4 cups Rice Krispies cereal (or cereal of choice)

10 oz marshmallows 

1 tsp vanilla extract

1/2 cup vanilla protein powder
Instructions:
In a large nonstick pot, melt butter over low heat.

Add marshmallows and melt over low heat stirring continuously with a silicone spatula. 

Stir in protein powder and vanilla until dissolved. 

Remove from heat.

Gently stir in cereal until well coated

Pour cereal mixture into pan and gently press into corners.

Let sit for at least 30 minutes.
Make it a Double Protein Treat with Allo Hot Chocolate
Allo protein powder for hot coffee is specially formulated to dissolve seamlessly in any hot beverage including hot chocolate.
Pair your protein rice crispy treats with a protein-boosted hot chocolate for a snack that has nearly 20 grams of protein.
Each packet of Allo adds 10 grams of high-quality hydrolyzed whey protein to your hot chocolate, hot coffee, hot tea, or favorite hot beverage for a sugar-free, gluten-free, clump-free boost in every 8 oz cup.
Try our Premium Variety Pack to try both the protein powder and protein creamer in vanilla, caramel, and hazelnut flavors. You also get a natural protein powder to add more protein to your favorite hot beverage without changing the taste you know and love.
Calculate My Recommended Protein Intake