Protein Packed Garlic Mashed Potatoes Recipe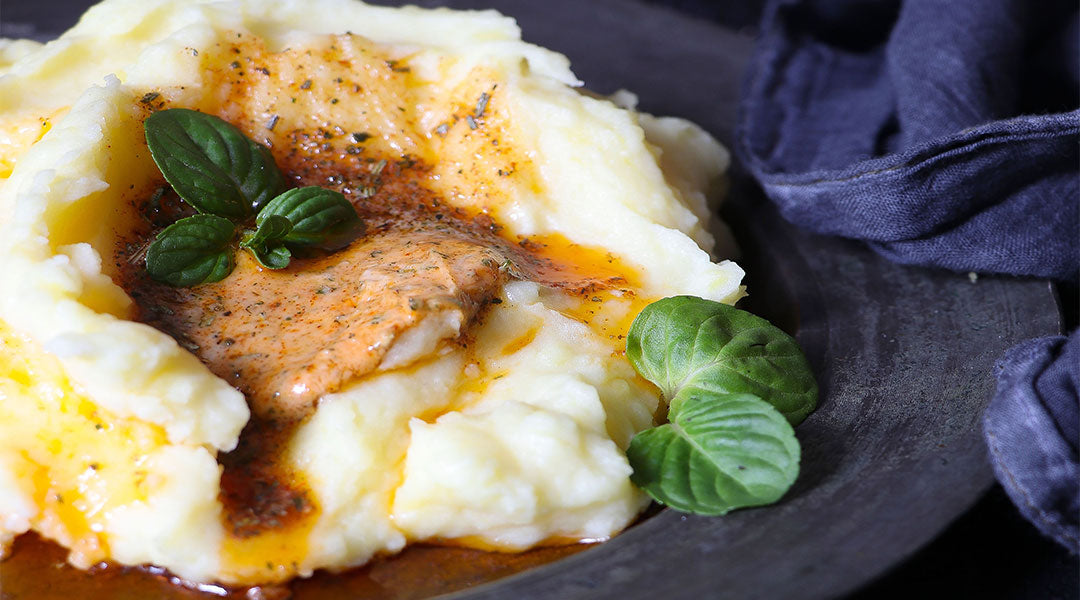 These creamy homemade garlic mashed potatoes are an instant comfort food favorite that you can add as a side to anything from dino nuggets to a full pork roast, and they certainly wouldn't be amiss next to the Thanksgiving turkey.

Not only are these mashed potatoes delicious, but the added protein means that even those who don't eat meat or aren't fans of turkey can still get a boost of protein from their harvest feast.

This recipe for garlic mashed potatoes packed with protein is the perfect side dish to delight everyone at this year's holiday gatherings and will quickly become a regular favorite of the whole family.
Garlic Mashed Potatoes with Protein
Our protein-packed garlic mashed potatoes are a spin on Naked Nutrition's Protein Powder Mashed Potatoes Recipe. 
While the original recipe calls for red potatoes, you can use any type that you like or happen to have on hand. You can also easily double this recipe to make a holiday-sized portion, or even triple it and set some aside to freeze for a homemade treat on a hectic night.
Half a head of garlic should definitely be enough for this recipe, but we're not here to tell you how to live your life. As always, feel free to substitute plant-based options for the sour cream, butter, and milk. If you prefer a thicker, more traditional texture, you can also use heavy cream.
The measurements for the spices are also more of a guideline and you should feel free to add other herbs and spices to taste. You can also add even more of a garlicky kick to your dish with garlic-flavored olive oil. 
You can certainly use a potato masher and whip things up the old-fashioned way, but an electric mixing makes quick work of the hard task. 
Ingredients:
1 lb potatoes

1/2 head garlic

3 scoops Allo Natural protein powder

2 tablespoon sour cream

2 tablespoon butter

2 tablespoon milk

3/4 teaspoon olive oil

1/2 teaspoon salt

1/4 teaspoon freshly ground pepper
Instructions:
Fill a medium to large pot 3/4 of the way full with water and set on high heat to bring to a boil. 

While you wait, wash, peel, and cube the potatoes.

When the water has reached a rolling boil, add the potatoes, reduce heat and cook for 15 to 20 minutes or until tender. 

Separate, peel, and mash the garlic cloves while the potatoes cook. 

Test the potatoes with a fork, then drain the water and mash the cooked potatoes with your beaters. 

While the drained potatoes are still hot, add the butter and let it melt for a minute before adding the rest of the ingredients.

Mix on low until smooth adding more milk as needed. 

Top with fresh chives or parsley and enjoy!
Beef up your Turkey Day Dishes with Allo
Take your Thanksgiving up a notch this year by adding a boost of protein to your favorite side dishes with Allo protein powder. Originally designed to be added to hot coffee and other hot beverages, the temperature stable formula also makes Allo the perfect protein powder to cook with.

Each scoop of Allo adds 10 grams of high-quality, fast-absorbing, hydrolyzed whey protein to your favorite holiday recipes with no sugar, no gluten, and no annoying clumps. Use Allo Natural for a flavorless protein powder that blends right in to any recipe, or try our vanilla, caramel, and hazelnut protein powders and protein creamers for your coffee and desserts.
Calculate My Recommended Protein Intake