Power Packed Pumpkin Spice Muffins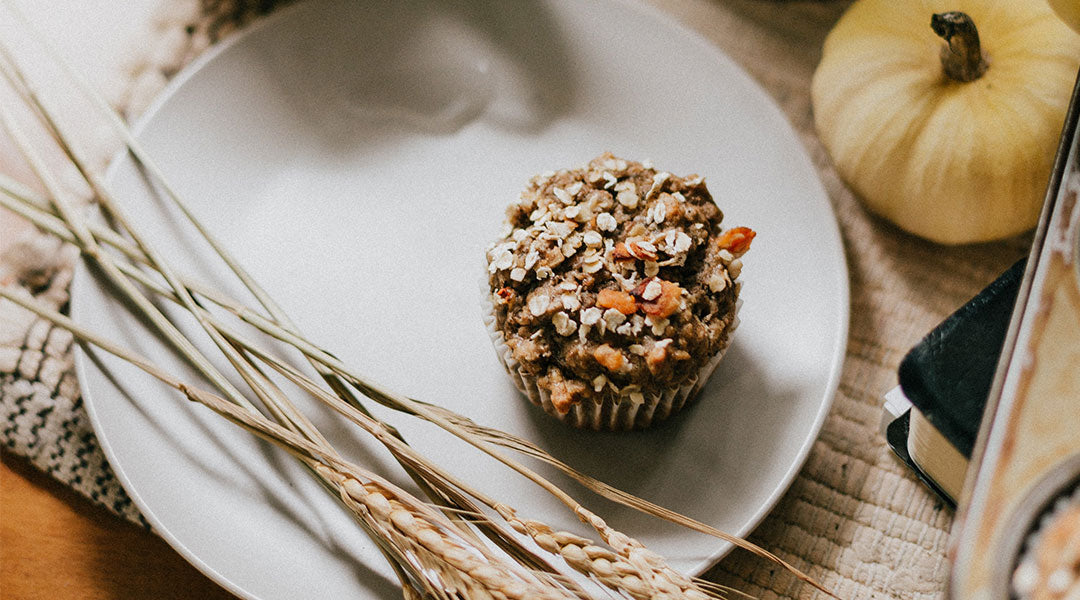 When the air becomes crisp and the leaves start to turn, you know it's time for pumpkin spice season! This year, expand your pumpkin spice praising with more than just lattes.

We've got a great recipe for pumpkin spice muffins with an added boost of protein powder. Make full-size muffins to have for breakfast or do them as mini muffins and keep a couple on hand to snack on throughout the day.

This recipe is super easy to put together, you just mix all the ingredients together, no peaking egg whites or hand folding required. You can make the whole thing with just a small bowl, a spoon, and your trusty muffin tins if that's all you have access to, but an electric mixer will certainly make the mixing a little easier for you.
Pumpkin Spice Muffins with Protein
Our pumpkin spice protein muffins are a spin on Kinda Healthy Recipe's Low Carb Pumpkin Protein Muffins.
Most of the ingredients for this recipe are items you likely already have in your kitchen, but to get the pumpkin puree and maybe the Pumpkin Pie Spice itself you'll need to make a special trip to the market.
As with any baking recipe, if you would like to make it vegan or just want to avoid the eggs, you can substitute 1/4 cup of apple sauce for each egg. You may also want to use a specific type of flour such as almond flour in order to avoid wheat flour.
Ingredients:
1 cup canned pumpkin puree

2 scoops Allo vanilla protein powder

3 large eggs

3/4 cup flour

1/2 tablespoon Pumpkin Pie Spice

1/2 teaspoon baking powder

1/2 tablespoon vanilla extract
Instructions:
Preheat oven to 350° 

Line your muffin tins with paper or silicone muffin cups or grease the tins with cooking spray or butter. 

Mix all of the dry ingredients in a large bowl.

Slowly add the eggs, canned pumpkin, and vanilla extract to the flour mixture and stir until well blended. 

Carefully pour the batter into the muffin tins until they are about 3/4 of the way full. 

Place the muffin tins on the middle rack and bake for 23-26 minutes. 

Test to see if the muffins are done with a toothpick inserted all the way through one of the muffins, if it comes out clean they are done.

Transfer the muffins to a cooling rack for 5-10 minutes.

Enjoy plain or top with a cream cheese frosting.
Pack Your Recipes with Allo Protein
Whether you're baking muffins, boiling up some oatmeal, or cooking a big pasta dinner, add protein to your favorite dishes with Allo protein powder for hot coffee. The temperature-safe formula not only keeps your protein at peak performance when added to hot coffee but can withstand oven temperatures as well, making it perfect for cooking.

Each serving adds 10 grams of high-quality, fast-absorbing protein to help fuel your muscles and help them recover fast and grow larger. Just add a few scoops to your favorite recipe or keep a few pre-portioned packets on hand to add Allo to your hot drinks and meals throughout the day.

Allo Natural's flavorless formulation makes it the best option for savory recipes, but the vanilla, caramel, and hazelnut flavors make an excellent addition to your baked-goods recipes as well as being a welcome addition at breakfast. Try all the flavors and find your way to Allo your coffee and your cookbook.
Calculate My Recommended Protein Intake