Perfect Peanut Butter Oatmeal Protein Bars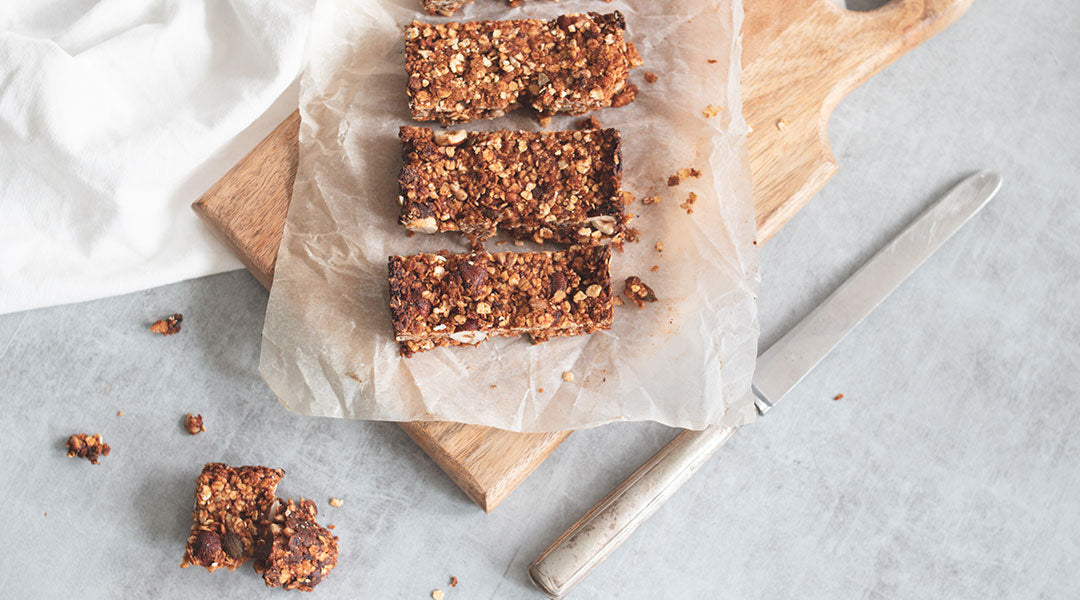 Make your own delicious oatmeal and peanut butter protein bars for easy morning breakfasts and quick post-workout snacks with this simple no bake recipe.

The oatmeal base gives the texture of granola bars and the peanut butter, sweetener, and chocolate hold the whole thing together. Whip up a batch each week to include in your meal prep or cut small squares and serve them up as delicious hors d'oeuvres at your next party or family gathering.
Peanut Butter Oatmeal Protein Bars
Our recipe is a spin on Sweet Ashoney's Peanut Butter Oatmeal Protein Bars.
We've switched out the brown rice syrup for plain old honey but feel free to use whatever liquid sweetener you prefer like maple syrup. You can also sub out the peanut butter for any type of nut butter. 
Similarly, the original recipe calls for either coconut oil or your choice of plant-based milk, but we've opened that up to any type of milk, though you will certainly want to keep your bars chilled if you use traditional animal-based dairy. 
You can use semisweet or dark chocolate chips or mix it up with some white chocolate or caramel-flavored morsels. If you are a big fan of vanilla, feel free to add a teaspoon of vanilla extract, but you will already get a nice vanilla flavor from the protein powder. Make it your own by experimenting with different flavors of protein powder, adding chia seeds, and decorating the top with whatever extras sound best. 
Ingredients: 
3/4 cup peanut butter

1/2 cup honey

2 tablespoons milk

1 cup rolled oats

1 ⅓ cup old-fashioned oats

1 scoop Allo vanilla protein powder

1/4 cup chocolate chips
Instructions: 
Line a baking pan with parchment paper.

Combine peanut butter, honey, and milk in a saucepan over medium heat and stir until smooth then set aside. 

Mix your dry ingredients together in a large bowl, both types of oats as well as the protein powder and any chocolate chips you want to add. 

While the peanut butter mixture is still liquid and warm, pour it into the bowl with the dry ingredients. 

Pour the batter into your pan lined with parchment paper and press it into the corners and smooth it down so the surface is even.

Press extra chocolate chips or your choice of nuts or dried fruit into the tops of the bars. 

Chill the peanut butter protein bars for an hour or freeze them for 30 minutes. 

Cut into squares and sever chilled for a more solid consistency or at room temperature for a softer texture.
Pack All Your Favorite Recipes with Protein
Give yourself an extra boost of protein without changing your routine with Allo protein powder for hot coffee in your drinks and all your favorite recipes. The heat-safe formula is specifically designed to dissolve seamlessly in hot liquids and remain stable in normal oven temperatures.

Allo is made with a high-quality hydrolyzed whey protein that gives you 10 grams per scoop and is certified gluten-free, sugar-free, and lactose-free. Try a few packs in vanilla, caramel, or hazelnut-flavored protein powders and protein creamers or grab a tub of Allo Natural for all the protein without any alteration to your favorite flavors.

Calculate My Recommended Protein Intake