Perfect Oatmeal Cookie Protein Oats Recipe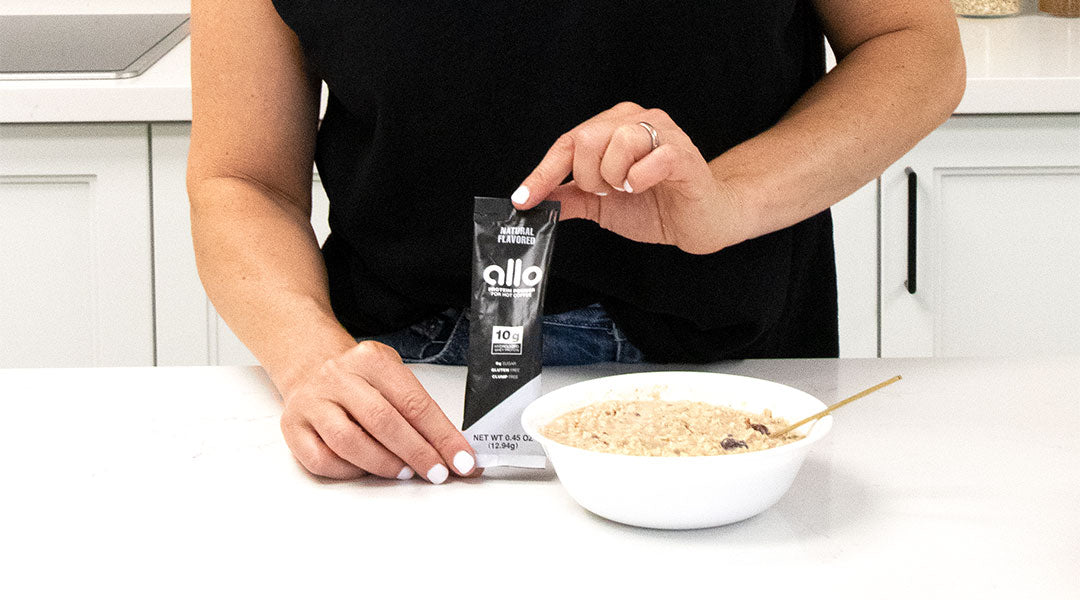 Getting enough protein at breakfast can be a difficult task, especially if you're a vegetarian or not a fan of eggs. A great way to boost your protein intake at breakfast is with protein powder.
Instead of chugging a chalking and heavy protein shake, however, you can now add protein powder right into your morning cup of hot coffee or tea as well as in breakfast foods like pancakes, hot cereals, and oatmeal.
Nutritional consultant and clinical dietician Abby Langer stopped by the Allo test kitchens to share one of her go-to recipes for using protein powder at breakfast: oatmeal cookie protein oats.
Oatmeal Cookie Protein Oats Recipe
All you need for this one is a microwave, a bowl, and a spoon. It's a quick and easy recipe that doesn't make a mess and gives you a great start to your morning with an extra 10 grams of protein to fuel your day.
One of the best parts of this recipe is you can easily customize it to make it your own. For the classic oatmeal cookie taste, we recommend using either the natural unflavored or vanilla-flavored Allo protein powder.
Feel free to add as much or as little chia seeds, raisins, and maple syrup as you like, throw in a pinch of cinnamon, or experiment with Allo's caramel and hazelnut flavored protein powders. And, as always, any type of plain or vanilla-flavored plant-based milk can be used in place of animal milk.
Oatmeal Cookie Protein Oats Recipe
Ingredients:
1 cup of oats

1 teaspoon of chia seeds

1 teaspoon of raisins

1 ⅓ cup of milk

1 teaspoon of maple syrup

1 sachet of Allo protein powder in your favorite flavor
Instructions:
Mix oats, chia seeds, raisins, milk, and maple syrup together in a microwave-safe bowl until well blended. 

Cook on high in the microwave in 2-minute intervals until your mixture is the desired texture, stirring in between. 

Add the sachet of Allo protein powder and stir until well mixed.

Serve warm and enjoy!
Get a Protein Boost with Allo
In addition to stirring Allo protein powder into your oatmeal, you can also get an extra 10 grams of high-quality hydrolyzed whey protein by pairing your breakfast with a cup of hot coffee or tea. With Allo in your oatmeal, you're already getting over 20 grams of protein, adding a protein-enhanced coffee or tea will have you over 30 grams in your first meal.
Try our natural protein powder to add 10 grams of protein to any 8 oz cup of your favorite hot beverage or mix it into recipes whose taste you want to keep unchanged, or go for one of our vanilla, caramel, or hazelnut flavored powders or sunflower-based creamers.
Calculate My Recommended Protein Intake