Brownie Batter Overnight Protein Oatmeal Recipe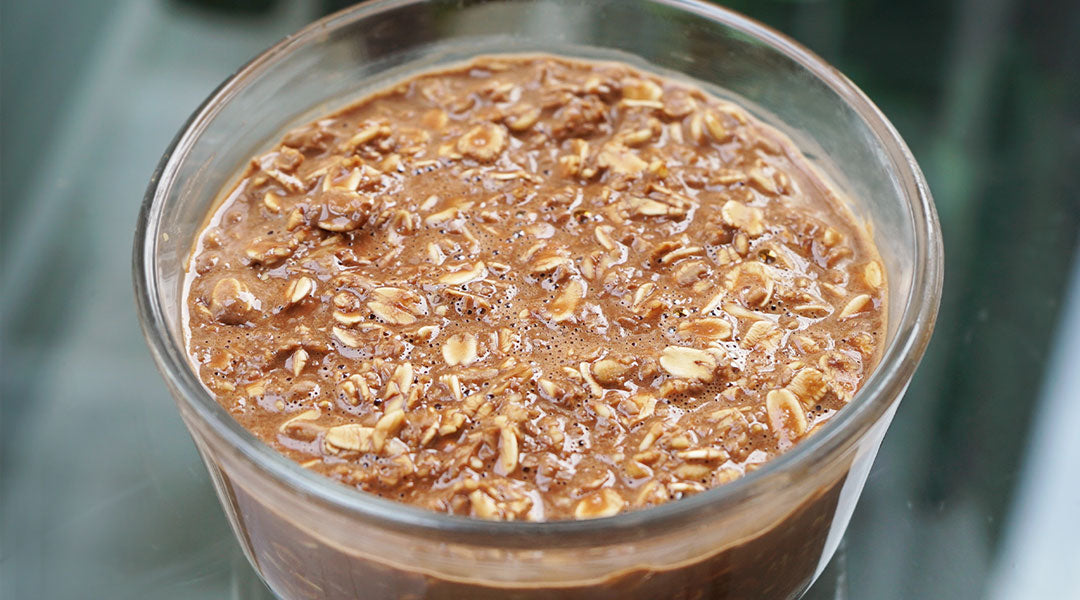 Putting together a delicious breakfast with all the protein and nutrients you need to tackle your day has never been easier than with overnight oats. Just mix up all your ingredients, tuck the mix away in the refrigerator overnight, and voila!
This brownie batter overnight oats recipe is especially decadent and is like getting to eat dessert for breakfast. And, with all of the high-protein ingredients included, you get well over 40 grams of protein from a full serving. Even if you only eat half at a time, you're still getting the recommended 20 grams of protein per meal without so much as opening the microwave.
This is sure to become one of your favorite recipes with how simple, easy, and just irresistibly tasty it is.
Brownie Batter Overnight Protein Oatmeal
This recipe is 100% gluten-free, but if you have an allergy or sensitivity, be sure to check that the oats you are using were processed in a gluten-free facility. You can also easily make this a vegan-friendly recipe by using a plant-based protein powder, milk, and sweetener.
As far as flavor goes, we suggest using either an unflavored, vanilla or chocolate protein powder, although you can certainly explore other flavor options. In our video of this recipe, we used the conveniently pre-portioned packets of Allo protein powder, which come in a natural, unflavored options as well as vanilla, hazelnut, and caramel varieties.
Since there is already a lot of sweetness going into this recipe, you don't need a lot of additional sweetener, but adding a tablespoon of maple syrup, honey, or stevia can help to balance the different flavors. Similarly, you can use additional extracts on top of the vanilla such as almond or butter extract.
You can even get a subtle change in taste by using different types of milk like unsweetened almond milk, vanilla almond or oat milk, or even chocolate milk for the ultimate triple chocolate experience. Still not enough chocolate? Add some chocolate chips on top along with some peanut butter or almond butter, chia seeds, fresh berries, or whatever toppings you like best. 
Ingredients:
1 cup old-fashioned rolled oats

1 ½ cups almond milk

2 tablespoons cocoa powder

2 scoops (⅔ of a cup) of protein powder or two packets of

Allo

1 tablespoon of sweetener

1 teaspoon of vanilla

A pinch of sea salt
Instructions:
Mix all of your ingredients together in a large mixing bowl. 

Cover the bowl or transfer the oatmeal into mason jars then place in the refrigerator overnight. 

In the morning, remove from the fridge and check the consistency, you may want to add more milk or a dollop of Greek yogurt if it's gotten too thick. Top with peanut butter, fruit, nuts, seeds, and syrups to taste and enjoy!
Calculate My Recommended Protein Intake