Baked Protein Chicken Tenders Recipe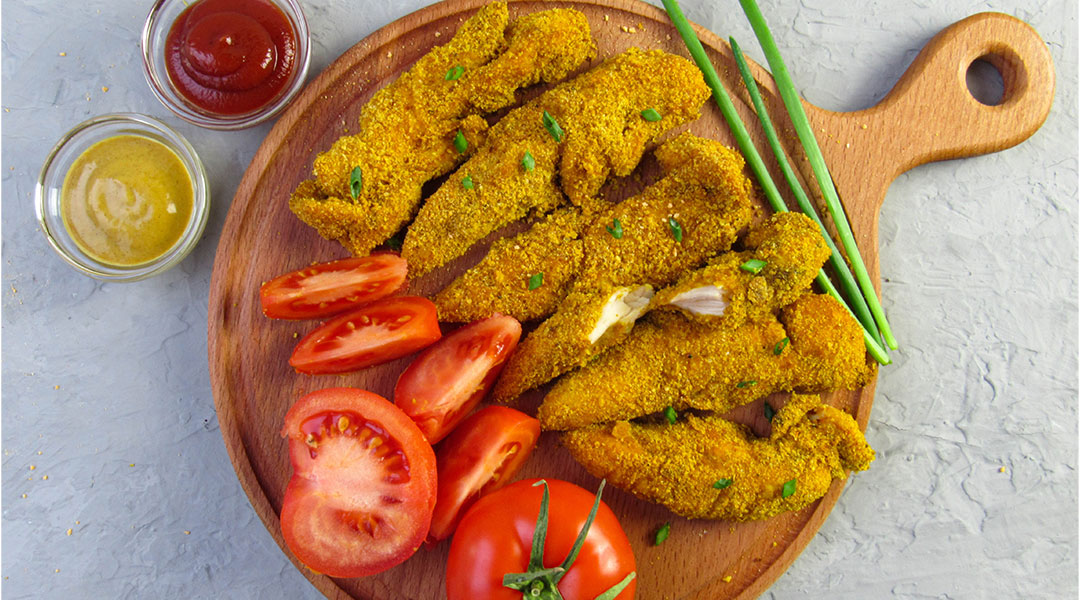 These amazing oven-baked chicken tenders are sure to please the whole family, and it is such an easy recipe, tired home cooks will love how simple it is to make these delicious crispy chicken strips.

With this recipe, you can satisfy that fried food craving without the greasy mess of traditional fried chicken tenders all while boosting your protein intake. These chicken tenders are perfect for meal prepping and easily pair with savory, spicy, or sweet sauces.
Protein Chicken Tenders
The best part of this recipe is it is so versatile there are nearly endless ways to enjoy it. It's a great way to add delicious and crispy breading to your chicken tenderloins, chicken breasts, pork chops, shrimp, fish fillets, tofu, or whatever kind of protein you want to work with.
You can also adjust the salt and pepper and other spices to fit your taste. Add garlic powder, onion powder, oregano, rosemary, basil, cayenne, or any other spices you like to flavor the breading just the way you like it. Also, using infused and flavored olive oil can be a nice addition to the overall flavor profile.
Since this is generally a savory dish, we recommend using Allo Natural protein powder as it will offer you high-quality, temperature-stable protein without altering the taste of your recipe. 
While this recipe is based on using a conventional gas or electric oven, you can also cook your chicken tenders in an air fryer. However, we do not recommend using this recipe for deep frying or pan frying as the excess oil can soak into the breadcrumbs. 
Ingredient:
½ pound chicken tenderloins

1 ½ cups Panko bread crumbs

1 packet Allo Natural

½ cup parmesan cheese

½ cup olive oil

1 tablespoon garlic salt

2 teaspoons black pepper

2 teaspoons Italian seasoning
Instructions:
Preheat oven to 375° and lightly grease a large baking sheet.

Combine all of your dry ingredients in a wide bowl or shallow dish and mix until uniform.

Pour your olive oil into a separate dish.

Dip your chicken tenderloins into the olive oil, coating all sides.

Transfer the chicken to your dry ingredient dish and rotate until evenly coated.

Lay the breaded chicken on your cooking sheet and repeat until all of the tenderloins are coated and spaced on the tray. If you have extra breading at the end, feel free to pile a little extra on each piece. 

Cook for 15-20 minutes or until the breadcrumbs turn a deep golden brown.
Pump up the Protein in Any Recipe with Allo
Add an extra 10 grams of protein to any recipe with a packet of Allo protein powder for hot coffee. The temperature-stable formula makes it perfect for baked goods, sauces, soups, and anything you can think of.

With Allo, you don't have to plan for extra meals, snacks or shakes, just add your favorite flavor, vanilla, caramel, or hazelnut, to your morning or afternoon cup of hot coffee, hot tea, espresso, or hot chocolate, or mix in our Natural unflavored option with any recipe to meet your intake goals in no time.
Calculate My Recommended Protein Intake