Power-Packed Protein Waffles Recipe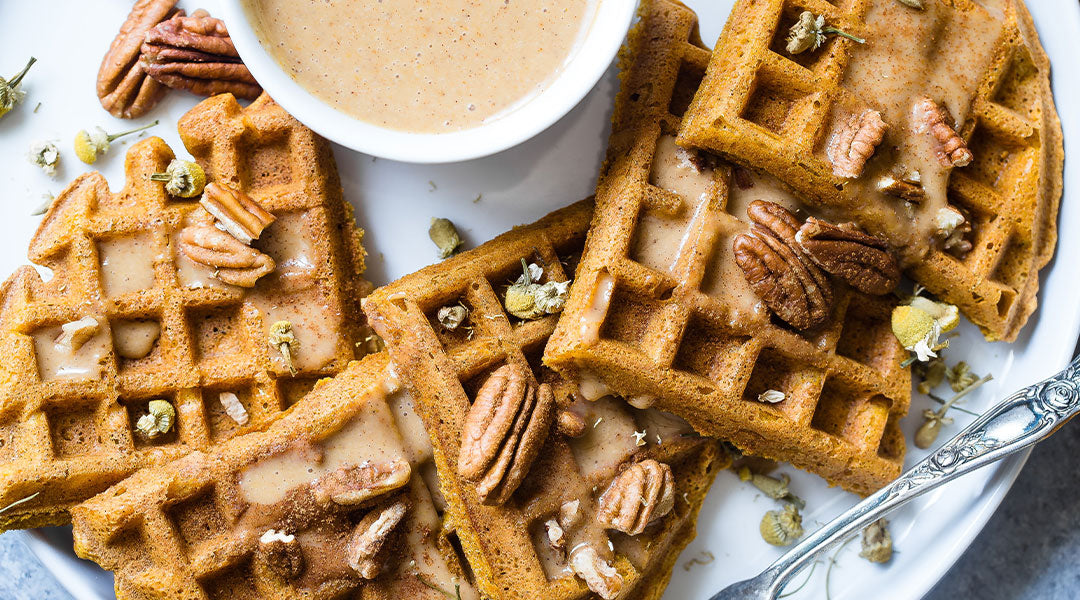 Start your morning off with a quick and easy hot breakfast packed with protein. Our protein waffles recipe is sure to please even the pickiest eaters.

You can put together these super easy protein waffles in just 5 minutes for a hot breakfast even on a chaotic morning. The best part is the wide variety of toppings you can use with this recipe means that you can enjoy these waffles for multiple healthy breakfasts without getting bored. You can also make a bigger batch and use these in your meal prep as snacks throughout the week.
Protein Waffles
This recipe makes 2 waffles at a time and is a spin on iFoodReal's Protein Waffles recipe. You'll need a waffle iron, a mixing bowl, and a whisk or handheld mixer. 
Every waffle iron is different so it's important that you follow the direction for your specific machine. If you're worried about having the batter stick to the waffle iron, you can use an oil or butter spray to grease the mold. 
The type of milk and flour is up to you. Traditional animal milk or any kind of plant-based milk will all work, though if you are a big fan of vanilla, you can double up by using vanilla-flavored soy, oat, or almond milk on top of adding a few drops of vanilla extract to the mix as well. Similarly, use whatever type of flour you prefer, however, the original recipe does call for oat flour.
The Greek yogurt gives you an extra boost of protein as well as a healthy dose of calcium. We recommend using the vanilla-flavored Allo protein powder, but feel free to experiment with Allo's other flavors or use Allo Natural to give you a flavorless base to add your favorite seasonal flavors. 


Ingredients:
4 large eggs

2 scoops Allo vanilla protein powder

1 cup flour

2/3 cup plain Greek yogurt

1/4 cup milk

Toppings
Instructions:
Preheat the waffle maker while you add the eggs, yogurt, and milk to a large bowl and whisk together.

Slowly add in the flour and protein powder as you continue to whisk the mixture into a batter.

Pour the batter into your waffle maker, about a 1/2 cup, and follow the device's instructions.

Let the waffle cook for 4-5 minutes until golden brown and crispy.

Add fruit, maple syrup, peanut butter, whipped cream, chocolate chips, or your favorite waffle toppings and enjoy!
Start Every Day with Allo Protein
You can easily add Allo protein powder for hot coffee to any breakfast by stirring in a scoop or sachet of your favorite flavor into your morning coffee, tea, or matcha, or by adding it to your oatmeal, goddess bowl, smoothie, pancakes, or any number of delicious recipes. Get an extra 10 grams of high-quality protein with every scoop and boost your overall daily intake without changing your eating habits or daily routine.
Try the vanilla, hazelnut, and caramel-flavored protein creamers in your coffee or espresso, and test the flavored protein powders in your favorite breakfast recipe. If you like the taste of your coffee just the way it is, try our Allo Natural protein powder for all the protein benefits without any added flavor.
Calculate My Recommended Protein Intake