Out of This World Strawberry Vanilla Protein Cheesecake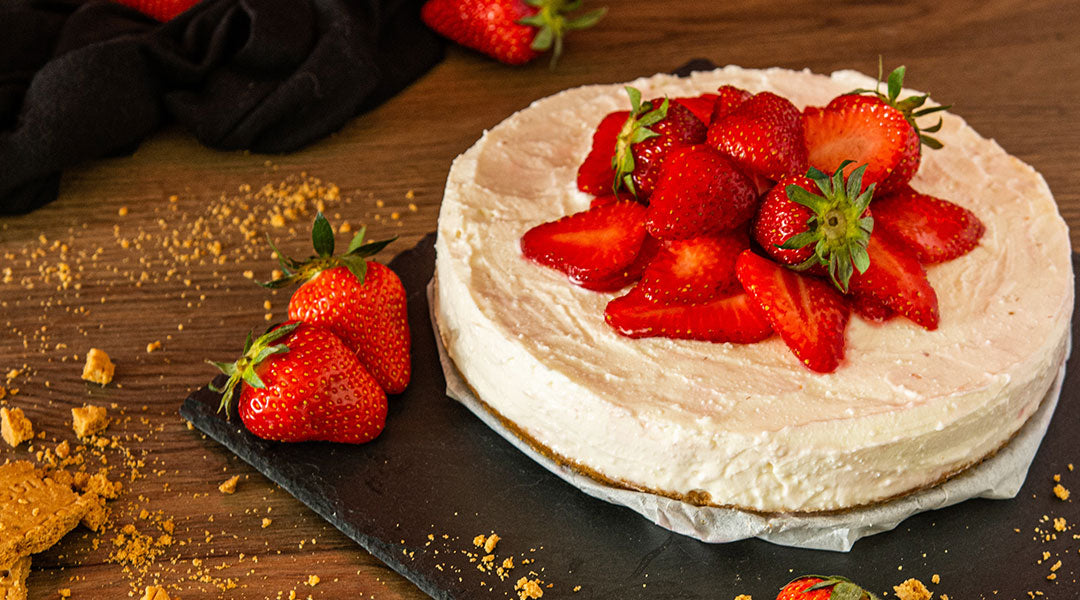 Instead of making another uninspired protein shake, use Allo's heat safe protein powder for hot coffee to whip up a decadent treat packed with as much protein as
flavor.

You won't believe how simple and easy this protein-enhanced strawberry cheesecake recipe is to put together or how out of this world delicious it is! It's as simple as mix, bake, chill, and serve to make your own amazing strawberry cheesecake with vanilla protein powder.
Strawberry Vanilla Protein Cheesecake
Our recipe is a spin on Muscle & Strength's Strawberry Protein Cheesecake Recipe.
One of the best things about his recipe is you can swap out the flavor to be anything you want by simply using a different type of fruit powder. For an authentic strawberry flavor with all the goodness of real fruit, you can use freeze-dried strawberry powder, or any freeze-dried and powdered fruit. If you're in a time crunch where you can't order any and you can't find what you're looking for at the grocery store, you can make do with strawberry-flavored Nesquick or a powdered Jello pudding mix. 
The original recipe calls for fat-free Greek yogurt, but you can use whichever percentage of fat Greek yogurt you prefer. Similarly, the original recipe specifies a powdered sweetener but you can use plain or confectioners sugar as well as Stevia or other powdered sweeteners. 
The Allo vanilla flavored protein powder will add a good amount of vanilla flavor, but you can still include a teaspoon of vanilla extract for a well-rounded flavor, although you might want to skip it and your sweetener if you end up using Nesquick for your strawberry flavor. 
In the original recipe, there is no bottom to the cake and you can certainly make it this way if you prefer, but you can also include your own graham cracker crust or buy one premade from the store to add your filling to. Once it's baked and chilled, you can add slices of fresh strawberries on top or any additional fresh fruit, syrups, or a white chocolate ganache. 
Ingredients:
12 oz cream cheese

1 ¼ cup Greek yogurt

2 large eggs

1/2 cup sugar or dry sweetener

2 scoops Allo vanilla protein powder

1 tablespoon freeze-dried strawberry powder

1 teaspoon vanilla extract

Fresh strawberries 
Instructions:
Prep your ingredients while the oven preheats to 325 degrees Fahrenheit. 

Line your baking pan with parchment paper and then spray it all down with non-stick cooking spray or use a premade graham cracker crust.

Mix together your cream cheese and sweetener in a large bowl using an electric mixer.

Slowly add in one egg at a time and mix in fully.

Pour in the remaining ingredients and mix until well combined.

Scoop the batter into the pan and level it down with a spatula. 

Place the pan in the oven and bake for 30 minutes.

Turn the heat down to 200 degrees and continue baking for another 45 minutes or until the top of the cake is golden brown.

Allow the cake to cool on the counter for an hour before transferring it into the refrigerator to finish setting overnight. 

Top with slices of fresh strawberries and serve chilled.
Pump Up All Your Desserts with Allo Protein 
Cut the guilt from all your favorite desserts by boosting their nutritional value with a high-quality protein powder like Allo protein powder for hot coffee. The heat-stable formula makes Allo perfect for baking as well as being an easy and delicious way to add protein to your diet without changing your routine by giving you an extra 10 grams of protein in every cup of hot coffee, tea, matcha, or espresso. 
Upgrade your recipe with Allo's professionally crafted vanilla, hazelnut, and caramel-flavored protein powders, or try Allo Natural for all the benefits of added protein without altering the flavor of your favorite dishes. Check out the Allo blog for more recipe ideas.
Calculate My Recommended Protein Intake