Jolly Good Gingerbread Protein Pancakes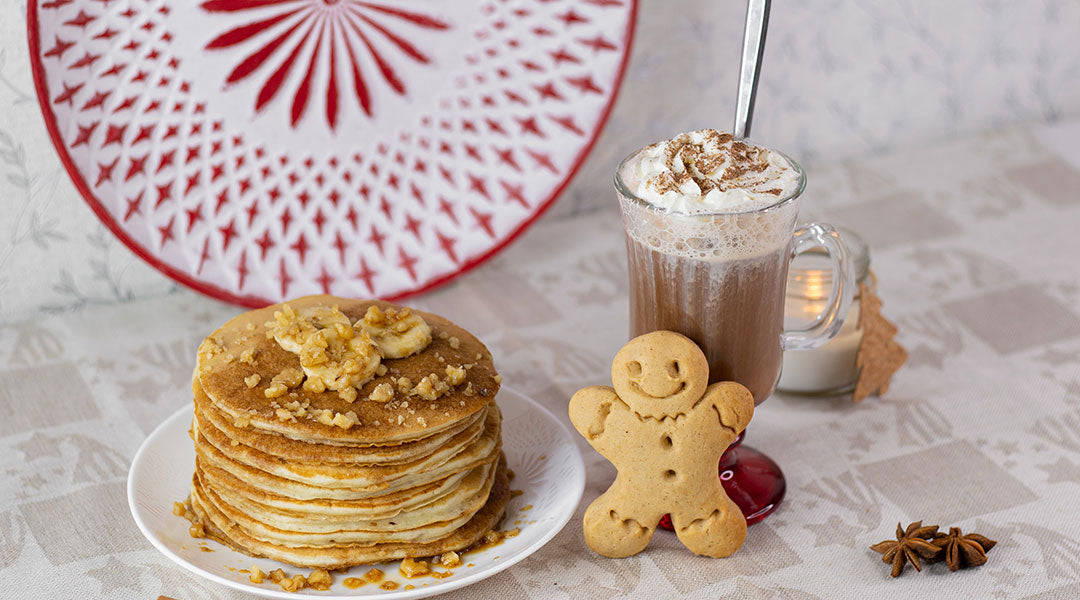 Get into the holiday spirit with these delicious gingerbread protein pancakes. These amazing breakfast delights are a perfect seasonal treat that you can enjoy all year round and they take less than half an hour to put together and cook.

Have fun playing with toppings from traditional pancake pairings to creative gingerbread house ornamentation. You can even take it to another level with a gingerbread pancake competition to see who can come up with the most creative combination.
Gingerbread Protein Pancakes
Our recipe is a spin on The Protein Chef's Gingerbread Protein Pancakes. The key to the gingerbread taste is the combination of spices and molasses. You can make do with maple syrup in a pinch, but to get them right, the molasses is a non-negotiable. 
You can, however, make some other substitutions based on your preferences. Two whole eggs can be swapped for 1/4 cup of egg whites and you can use a 1/2 cup of Greek yogurt in place of the cottage cheese. If you want to add some extra flavor complexity you can put in 1/4 of a teaspoon of butter extract or 1/4 teaspoon of ground cloves or nutmeg if you have them on hand. 
As for equipment, you will need a food processor or blender as well as a large frying pan or griddle 
Ingredients:
3/4 cup rolled oats

1/2 cup cottage cheese

2 large eggs

1 scoop Allo vanilla protein powder 

1 teaspoon vanilla extract

1 teaspoon baking powder

1 teaspoon light brown sugar

1/2 tablespoon molasses

1/2 teaspoon ground cinnamon

1/4 teaspoon ground ginger

1/4 teaspoon salt
Instructions:
Combine wet and dry ingredients in your food processor or blender as your frying pan or griddle heats up with some non-stick cooking spray. 

Blend the ingredients until fully smooth and well mixed.

When your pan or griddle reaches medium heat, add 1/4 cup of batter to a measuring cup or spoon and pour batter onto the heated surface.

Cook for around 2 minutes or until the batter is full of bubbles then flip.

Cook for another 1-2 minutes or until cooked all the way through. 

Repeat until all the batter is used up.

Top with fruit, whipped cream, or maple syrup, and enjoy.
Put the Power of Protein in Your Holiday Recipes with Allo
Make the most of your holiday favorites with an extra 10 grams of protein in every scoop of Allo protein powder for hot coffee. The specially formulated protein powders and protein creamers are designed to dissolve seamlessly in any hot beverage and the heat-safe formula makes Allo perfect for cooking.

Try Allo in vanilla, hazelnut, or caramel flavors for your coffee, desserts, and sweet breakfast treats, and grab a tub of Allo Natural to add protein to any recipe or hot drink without changing the flavor. You can also get Allo in pre-portioned packets to keep in your gym bag, briefcase, backpack, or glove compartment to Allo your coffee wherever you go.


Calculate My Recommended Protein Intake