Effortless Espresso Protein Smoothie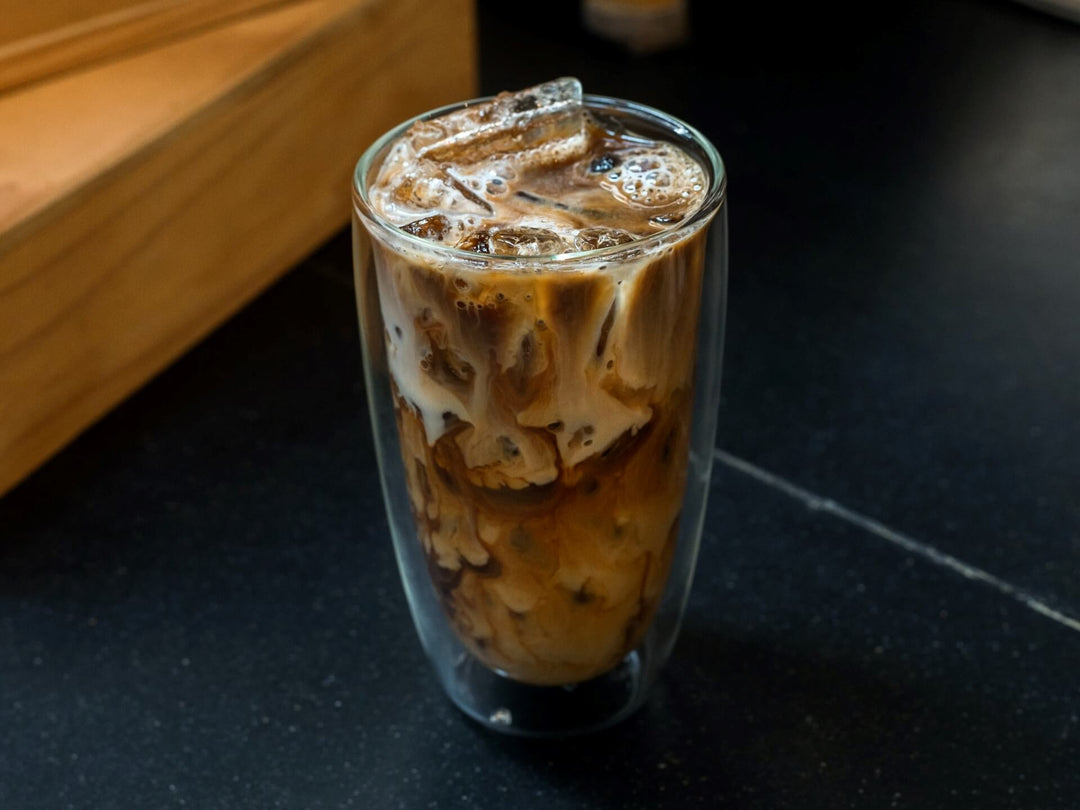 We've all had those mornings. You wake up late and everything is a rush to get out the door. You barely have enough energy to get yourself going, but you grab your trusty travel mug and, coffee in hand, head out to face the day. But by the time you get to work you're ready to crawl back into bed.  
One of the easiest ways to boost your energy and give your body the fuel it needs is to eat enough protein, especially early in the day. But adding an extra serving of protein to a week's worth of meals can be more than a little cost-prohibitive. 
That's where protein powder comes in. Protein shakes and smoothies are a great way to bump up your daily intake of protein without the added time, cost, and mess of making a whole meal. 
While there's no substitute for a healthy high-protein breakfast, a protein smoothie is a good option on those hectic mornings when you don't have enough time for a proper meal. To make things even easier, you can make your shake with your morning coffee blended right in, so you get your caffeine fix and your fill of protein all in one.  
We've put together a super simple, protein-packed espresso protein smoothie recipe that gives you the energy you need to tackle your day, and it only takes five minutes to put together!
The Benefits of Blending Protein with Espresso
Protein shakes and smoothies provide several health benefits, such as improved muscle growth, stronger bones, and a more robust immune system, which mostly comes from increased protein intake.
Our recipe also includes espresso or coffee, which adds a dose of caffeine to jump-start your morning. Coffee has been linked to a number of advantages, including a reduced risk of type 2 diabetes, a reduced risk of dying from chronic liver disease, and even improved brain health. 
We also use almond milk in our recipe, which is a great source of nutrients such as calcium, B vitamins, vitamin E, and fiber. With fewer calories, sodium, and saturated fat than cow's milk, almond milk is a great alternative to dairy if you want to keep it plant-based or are just looking for a lower-calorie option.
Bananas add the final layer of benefits. With essential vitamins and minerals like potassium, magnesium, and vitamin C, bananas support cardiovascular health, weight control, and digestive health.
Recommendations for a Great Espresso Protein Smoothie
Our recipe is inspired by Cook Eat Paleo's Espresso Protein Smoothie. The total amount of protein you get out of it will vary depending on the type of protein powder and milk you use, but as it stands, this recipe should give you around 30 grams of protein. 
You can use any type of protein powder, but we recommend hydrolyzed whey protein for better absorption, more total grams of protein, and less strain on your stomach. 
If you're using vanilla-flavored protein powder, you can skip the vanilla extract, but there's no harm in doubling up on flavor. You can also add some cinnamon or nutmeg to balance out the sweetness. 
We recommend you use a frozen banana. Freezing ripe bananas keeps them fresh and improves the texture of your smoothie. 
For added benefits and texture, you can also add flax, hemp, chia, or black seeds.
You can use your favorite espresso or strong coffee, or if you're really pressed for time, just toss in three teaspoons of instant espresso. 
Effortless Espresso Protein Smoothie
Prep time: 5 mins
Servings: 1 
Ingredients
1/2 cup almond milk 

1/2 banana frozen 

2/3 cup ice cubes 

1/2 teaspoon vanilla extract

1/3 cup protein powder 

1/4 cup espresso or 3 tsp of instant espresso

Sweetener, sugar, or honey
Instructions
Add ingredients to blender.

Blend on high until smooth. 

Pour into your favorite tumbler and enjoy!
As simple as this shake is, some mornings are so tight that you don't even have five minutes to toss a smoothie together. If all you have time for is throwing a pod in the Keurig before heading out the door, then make it a protein coffee with Allo protein powder. Just pour a packet into your go-to morning brew to give yourself 10 grams of protein. 
Allo is specially crafted to dissolve completely in hot coffee. Explore creamer options in vanilla, hazelnut, and caramel, or non-creamer options in the same flavors and natural, at
liveallo.com
.
Calculate My Recommended Protein Intake