Double Chocolate Protein Mug Cake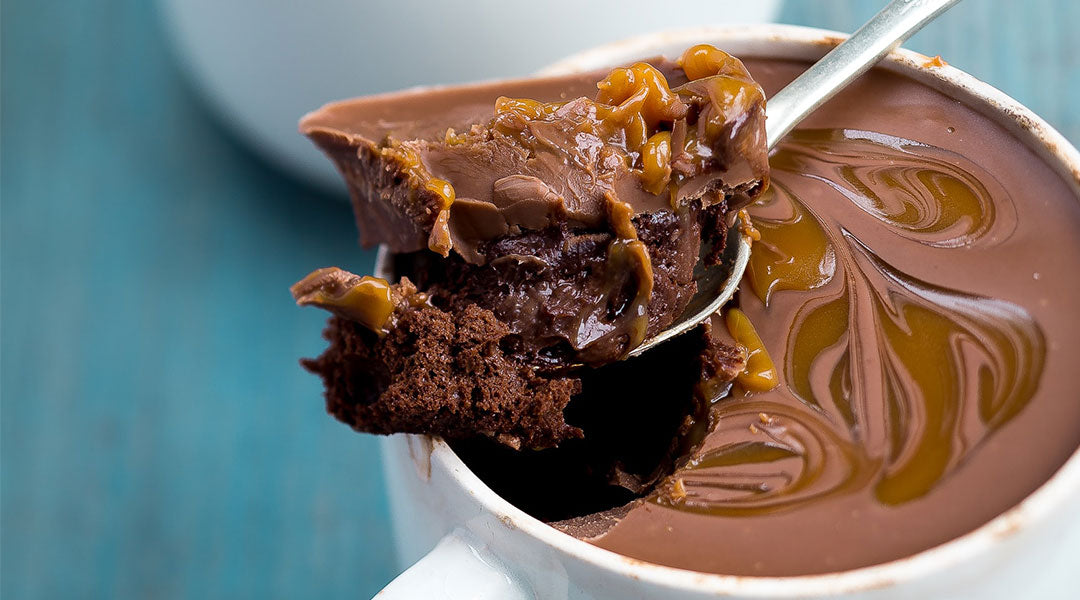 When you're craving something sweet, sometimes the only thing that will do is cake. Luckily there's a way to get a satisfyingly sweet snack when the craving hits without having to bake a whole cake, and you can even add some extra protein to the mix.

Mug cakes are super easy to make and while the single serving can be cooked in the oven, the quickest way to have your cake and eat it too is to use the microwave. Make sure that you only use microwave-safe mugs for your double chocolate mug cake.
Double Chocolate Protein Mug Cake
Our recipe is a spin on Erin Lives Whole's Chocolate Protein Mug Cake. The original recipe calls for oat flour, but you can use any type of nut flour to keep the recipe gluten-free and for a little extra protein. 
For this delectable dessert, we recommend using either vanilla-flavored protein powder or Allo's Natural unflavored protein powder. If you do use Allo Natural, you might want to add a few drops of vanilla extract to the recipe. 
Just like with the flour, feel free to use any type of plant-based, dairy-free, or traditional dairy milk. You can also substitute the sugar for a dry sweetener, or use a different type of chocolate chip other than semi-sweet.
Experiment with dark chocolate by adding a pinch of salt and using the caramel flavor of Allo or make it a blondie with white hot chocolate mix instead of cocoa powder, vanilla flavored Allo and white chocolate chips. 
Don't forget to top things off with your choice of whipped cream, ice cream, caramel syrup, peanut butter, or more chocolate chips. 
Ingredients:
3 tablespoons flour

1 packet of Allo Natural or Vanilla

1.5 tablespoons cocoa powder

1 tablespoon sugar or dry sweetener

1/2 teaspoon baking powder

1/4 cup almond milk

2 tablespoon chocolate chips
Instructions:
Combine all dry ingredients except the chocolate chips in your mug.

Add milk and mix until well combined

Stir in half the chocolate chips then layer the remaining chips on top.

Microwave on high for 60-80 seconds or until the batter expands to the top of the mug. Keep an eye on it after 30 seconds and check every 10 seconds until done.

Add your favorite toppings and enjoy!
Add Protein to Any Recipe with Allo
Pump up your protein intake at any meal with Allo protein powder for hot coffee. The temperature-safe formula makes it perfect for cooking and our no-clump formula blends seamlessly into nearly any recipe. 
Use Allo vanilla protein powder for pastries and baked goods, caramel for oatmeal and hot cereal, and hazelnut for your favorite hot coffee, hot tea, espresso, hot chocolate, or other hot beverage. For savory flavors, use Allo Natural and preserve the robust tastes of your favorite dishes.
Check out the recipe section of our blog for more ways to cook with Allo.
Calculate My Recommended Protein Intake