Creamy Broccoli Cheddar Protein Soup Recipe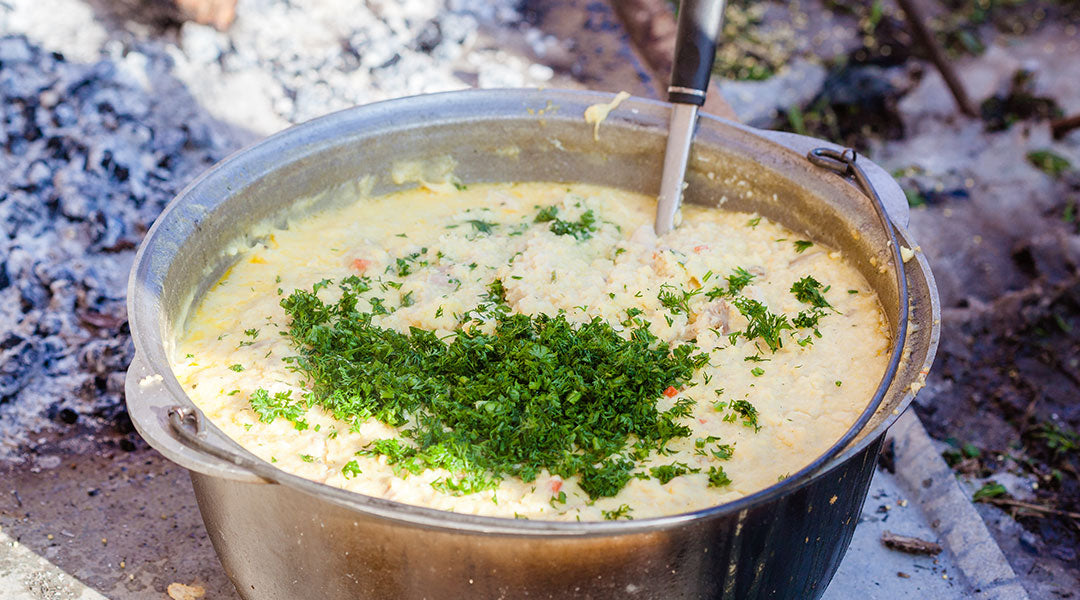 Warm up and fuel up with this deliciously creamy, protein-packed broccoli cheddar soup recipe. It takes only 15 minutes to prep and 30 minutes to cook.
Make a fresh batch to enjoy as a weekend lunch or whip up a double and freeze a few servings for a quick option on a busy weekday or a nice and healthy nighttime snack.
Broccoli Cheddar Protein Soup
Our recipe is a slight alteration on CheatClean Cookbook's Broccoli Cheddar Soup. 
While the recipe does call for chicken stock, vegetable stock will work just as well. We would recommend avoiding any darker beef stocks though. 
Speaking of vegetables, you can use whatever type of onion you like best, but a sweeter white or yellow onion tends to work best with creamy soups like this one. If you're using an immersion blender, it could be helpful to make sure your onions are finely chopped before blending, but if you're using a larger food processor, it's not as important as the machine will blend them finely regardless. 
When you add the cheese, feel free to let it sit in the hot liquid for a moment to melt a bit before processing. Also, if you feel that the protein powder is making the soup too thick, feel free to add in an extra splash or two of chicken stock, you just might want to heat it up first. 
If you'd like to add a little extra veg to your soup, you can include both broccoli and carrots at the end before you've added the cheese garnish on top. You can also add an herbal garnish if you'd like or play with adding other spices into the mix to make the recipe your own.
Ingredients:
4 scoops Allo Natural protein powder

2 teaspoons melted butter 

1 medium onion, chopped

3 cloves garlic, minced

½ teaspoon black pepper

5 cups chicken broth

2 cups water

6 1⁄4 cups chopped broccoli florets

Large bowl of ice water

1 1⁄2 cup shredded cheddar cheese

1 cup sour cream
Instructions:
Heat the butter in a small saucepan over medium heat.

Once heated, add onion and garlic and sauté until slightly caramelized, about 3 minutes.

Pour in the chicken broth and turn the heat to high until the broth comes to a boil.

Reduce heat, cover, and simmer, stirring occasionally, until half of the broth has evaporated or about 15 minutes. 

Remove from heat and set aside.

In a large pot, bring to a  boil 2 cups of water. 

Add the chopped broccoli to the boiling water and cook for 2-3 minutes.

Drain the boiled broccoli and immediately place it in the ice bath for 2 minutes.

Add ¾ of the broccoli to your blender, and set the rest aside for later.

Slowly pour your chicken broth mixture into your blender and process for 10 seconds, or until well mixed.

Add the sour cream, pepper, only 1 cup of cheese, and only one scoop of Allo Natural protein powder to the blend and process until smooth.

Add another scoop of Allo Natural protein powder and blend until fully absorbed. Repeat this step until 4 scoops have been added in total.

Transfer the soup to a serving dish or straight into bowls and stir in the remaining broccoli.

Top with the last of the cheese, or a little extra if you like, serve and enjoy!
Add Protein to Your Favorite Recipes with Allo
Get an extra protein boost from your favorite soups, sauces, and desserts with Allo protein powder for hot coffee. The heat-safe formula makes it ideal for cooking and Allo Natural offers you an unflavored option to preserve the taste of your favorite dishes while still getting the added benefits of high-quality hydrolyzed whey protein. 
The specially formulated protein powders and protein creamers were originally designed for hot beverages like coffee, tea, espresso, and hot chocolate, but they also work wonderfully when rolled into any kind of dough or dissolved into delicious creamy soups and savory sauces. 
Take Allo on the go with the convenience of Allo protein powder packets or have your favorite flavors on hand in bulk with our new tubs of protein. Try our vanilla, caramel, and hazelnut flavors as well as Allo Natural to Allo your coffee and your cookbook.
Calculate My Recommended Protein Intake